We have the pleasure of sharing with you a very special article written by our good friend Ken Hokugo. This amazing interview is an exclusivity for Ikigai Watches and, to our knowledge, the only in depth interview with Ohira-sensei.
If you don't know yet who Ken Hokugo is, make sure you check his interview featured on this episode of Talking Seiko.
Thank you so much to Ken for this amazing article on a living legend and this rare opportunity to hear from the Master himself !
This is an article I wrote in 2012, when I first met Mr. Ohira.  You all may not know him, but may know some of his works.  He has "God's Hands" and called "God of Adjustment/ Regulation".  In fact, I always have asked him to regulate the new Seiko watches I have bought.  After several weeks to months, we meet again and the watches – from 9S to 6L or lesser quality movement come back with +/- 3 seconds at most at any position.  His very stubborn idea is that he cannot forgive watches that has more than 3 seconds deviation at any position, and he achieves that.
Another thing you should know is that he is the instructor who has and still is teaching all the watchmakers at Seiko Service Centers around the world.  As Seiko goes more and more global, Seiko first tasked itself to establish service centers around the world so that Grand Seiko, which is now available globally, do not have to be returned to Japan, and he is the teacher for all of the service center staff.  So, for the past several years, he is on the road, perhaps 1/3 of year, therefore he takes a long time to adjust my watches.
I am so lucky that he is so close and he is now a great friend of mine.  I know you all might want to have your watches adjusted by "God's Hands", but please be patient.  He is thinking about it, but he will not retire for a few more years.  Even I can meet him and ask him to do it only once or twice a year. 
I have an old 61 GS VFA, and had it adjusted by him, perhaps 5 years ago.  It still runs within 2 seconds per day.  When I received it, it was running less than 1 second per day at any position, as well as when I'm wearing.  He said, "The result was good because the design of the movement is so good, and this example was luckily one of the better one (he has done the job on many, many VFA before)".  For modern one, some of my collection have been adjusted by him – they are all within 3 seconds per day, even the EUR1,000 or less ones, on the wrist as well as timegrapher (but it won't last long, needs re-adjust sooner).  On winder, after 2 weeks of not touching, it was just 10 seconds slow – great for an 8L movement.  Oh, and folks, he does not like Spring Drive.  He loves and does adjust only Seiko mechanical watches. [ed: we have an in-depth article on the rivalry between Suwa/Epson and Daini/SII coming soon]
Anyway, his work is excellent.  May take time and cost, but it is well worth it. I myself can live with COSC certified tolerance (barely!), but I cannot live with the one that has, say, 15 seconds a day.  No way !  I am sure many of you are in the same camp.  So, my point is that you may want to remember his name – one day, you may want to use his "service"…..
So, bear those in mind, and without much ado, please read the article I wrote about my encounter with Mr. Ohira or Ohira Sensei.  You will understand how important he has been for Grand Seiko.
===========================================================================
One day, I got a call from the former PR department head, who is now head of Overseas Customer Service department.  He suggested that I meet with the « Father » of the modern mechanical Grand Seiko and perhaps I can hear interesting stories which had never been spoken in public.  As a big fan and collector of GS, vintage or modern, I replied « Yes » immediately and the meeting was held recently.  He was more than the « Father », but « God Father » of the GS watchmakers/ watch making process about GS.
The idea of « re-launch of the mechanical GS » was born in 96 and the project involving design and movement, etc. started early 97, and it was announced and launched in 98.  Mr. Ohira was involved in the project from the development phase including the assembly, adjustment, evaluation, and feedback to the design/ product architecture team to contribute to the higher accuracy of the GS line.
I hope you enjoy the interview as much as I did – GS is now expanding its reach globally little by little and it will get much easier for everyone to get a hand on it.  I hope you find and enjoy the performance of GS, especially in relation to the cost.  Performance is world's top notch while the cost is really down to earth.  As a time-telling simple watch – three hands, with date, sometimes without date – robust, the design which doesn't change much which means it is not affected  by the « fashion » and lasts and usable for a long time, perhaps beyond generation from the father to the son.  GS is now preparing to provide a much longer service period after the discontinuation of the model.

The short bio of Mr. Akira Ohira:
– Joined Seiko Instruments Inc. (« Daini-Seikosha » back then) in 1970 at the age of 15.
– 1982-83: In Brazil, Manaus, to set up a factory there for the mechanical caliber70/42
– 1994-96: In China, Guanfzhou factory, to increase the capacity of it.
– 1997-2009: Involved in the re-launch of mechanical Grand Seiko, he was the only person for assembling and adjustment at the beginning.
– 9/2009 – Present: SEIKO INSTRUMENTS INC.  Assistant Manager, Watch Technical Training and Education Center in Chiba, Japan since September, 2009
– Nickname among fans « God of Adjustment »
=============================================================================
KIH: Thank you very much for taking time to meet with me today.  I have heard lots of your « legends » and am very happy to finally meet you.  There are many SEIKO fans on around the world and I am sure they will be excited to hear your story, too.
Your business card says « Training and Education Center ».  So, do you now transfer your knowledge and technique to the younger generation?
Ohira (AO): Well, not only that, I provide the watchmakers from overseas with training.  I trained the watchmakers from Hong Kong last year, and I did Thailand and Russia this year.  As you may know, Grand Seiko is now expanding its reach globally and with that, CS (customer service) must be available in those regions.  One thing to note here is that I have been with SII (* Seiko Instruments Inc. which owns Shizukuishi Factory for MECHANICAL GS, used to be called Daini Seikosha (the Second Seiko co.), or sometimes « Kameido » from the name of the address of the factory back then) for my entire watchmaking career, but there is Seiko Epson (* which produces Spring Drive GS, Quartz GS, used to be called Suwa Seikosha from the name of the region where it had its first factory).  And I don't know much about « the other » SEIKO, while from the customers' perspective, SEIKO is SEIKO.  So, I have been studying the history and major calibers of « the other » SEIKO to be a good instructor.

KIH: I understand that you are called the « God of Adjustment » or have "God's Hand", but now you are away from the GS Factory in Shizukuishi.  Who is now bearing such a heavy burden now?  Your successor?
AO: In a way, everyone in Shizukuishi is my apprentice and the adjustment job is now being done by some of them.  In my opinion, adjusting a watch is not only a matter of « numbers » but requires a certain « feeling » or « sense » or « hunch » whatever you call it.  A very, very important task for higher end watchmaking.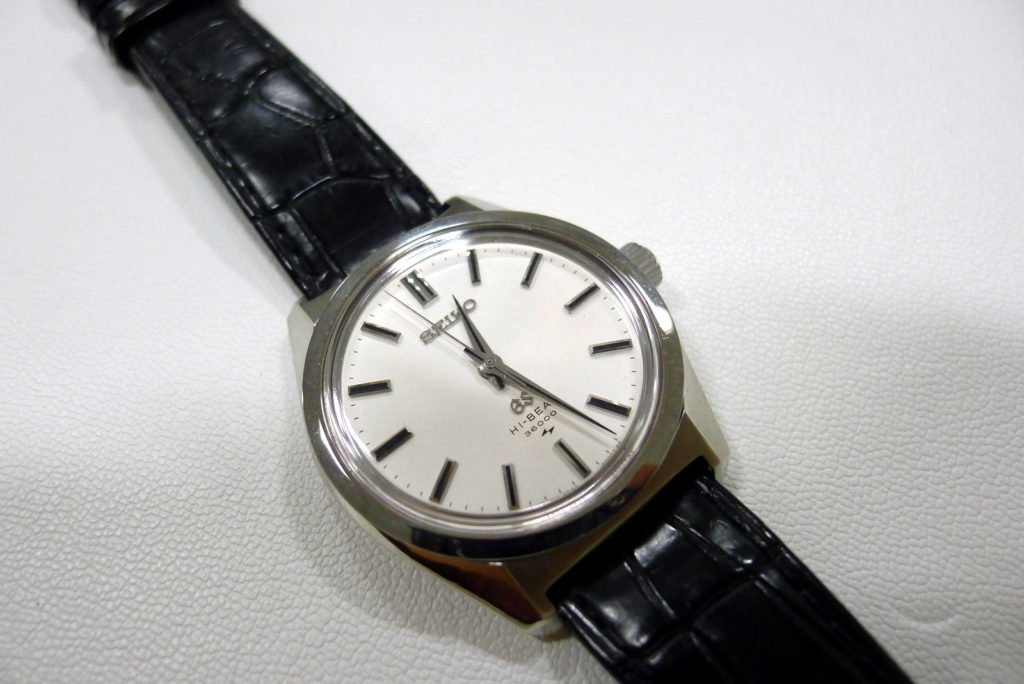 45GS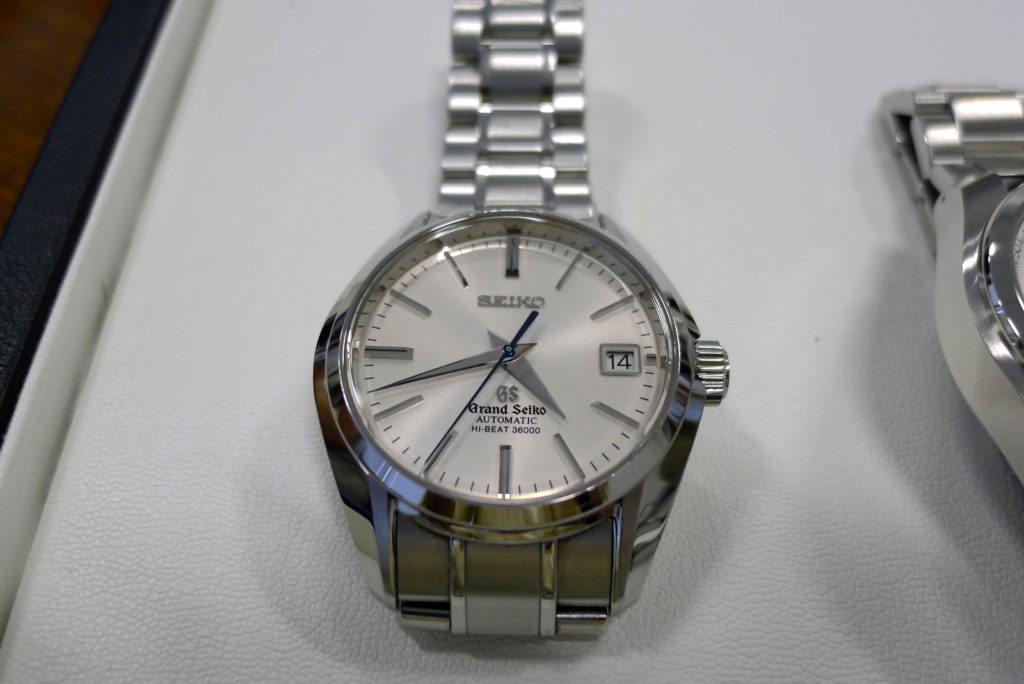 SBGH001


AO: (About SBGH001 – first modern Hi-Beat) This is the last caliber I was responsible for assembling and adjusting.
KIH: What exactly are the difference between the vintage Hi-Beat and the new SBGH Hi-Beat?
AO: At the time of the old Hi-Beat, it was not so common to have a watch serviced every X years.  And unlike today, people were not so keen about its accuracy – there were not reference watches or time as abundantly available as today, or things were not as on time as today.  Therefore, people tended to use the watch until it stops, and then bring it in for repair.  By that time, parts inside had typically worn too much and the initial accuracy can no longer be expected.  But today, people do expect accuracy from Hi-Beat (as there are lots of reference time available today), so SBGH Hi-Beat must be more reliable and durable.  The old Hi-Beat had stronger torque, bur we cannot say that the power reserve and durability it had is adequate for today's needs.  The new Hi-Beat has many improvement over the old one, including but not limited to the « lubricant pockets » in the escape wheel tips and newly developed mainspring which has advantages over the balance between torque and power reserve.

KIH: Let me ask about the re-birth of the mechanical Grand Seiko.  How did you get involved in that project?
AO: I was told, I believe it was in 97, about the project for resurrection of the new MECHANICAL Grand Seiko.  I raised my hand and said YES, but made one condition – I asked to do it alone first.  I just did not want others to interfere my gut feeling about the process from the beginning to the end.  Of course the parts were supplied, but I wanted to do alone the assembly and adjustment in order to pursue the accuracy needed to meet the Grand Seiko's standard.
KIH: How did the project go?  Smooth?
AO: Of course not.  It had been determined that the new mechanical GS would be launched around the Christmas time in 98, and in early 98 I already had a feeling that it would be extremely difficult to achieve.  So, I told the management that we wouldn't make it by the deadline, but the decision was not changed.  Then I told them that the team would have to work without weekend or vacation and told them NOT to try to force us to take even a day-off.  I just asked them to compensate the team financially.

KIH: What was the most difficult task which threatened the launching date?
AO: Adjustment.  Accuracy is the heart of Grand Seiko.  As you may know, COSC does 5 positions.  Those 5 positions EXCLUDES « 12 o'clock up » which is generally the position that most slows the mechanism.  But GS standard does 6 positions and that of course INCLUDES that most difficult position.
KIH: I understand that you joined SEIKO in 1970, at the age of 15.  I assume you were not involved in GS from the day 1 of your career.  What did you do before getting involved in GS?

AO: My first task was to open the back of the case, both snap and screw, for the movement to be assembled in, from 9 to 5 every day.  I did it for months.  Those who couldn't bear that boredom left the company.  The next was to attach the dial on the assembled movement.  The next step was to attach the hands on the dial….  And we were evaluated by the number of the « pass ratio ».  So the pass ratio must be certain level before you are allowed to go to the next level.  And then, when I was 20, I was told to go to school, which is SEIKO's in-house watch school.  I studied watchmaking all day for 6 months.  And when I returned, mechanical watch was no longer the main focus, but the quartz watches were.
KIH:  And then you were told to work for the mechanical GS re-launch project?

AO: Not yet.  Before GS, I was involved in assembling and adjustment for the Credor Chronometer, with 4S79 movement in 97, LE of 500 (note: to be precise, there was another special LE version of this caliber for one of the retailers, LE of 20, so the total number is 520…).  I did it alone.  Like 44KS caliber, I attached a weight ON the hair spring to eliminate the position error.  It is not a well-known method, and those street watchmakers who don't know well tend to think it is « dust » and take it away and ruin everything.  I even picked the glue by calling Locktite telling the requirement and they brought a few samples.  Even though I assembled and adjusted the watch, I am looking for it in the secondary market but I have never seen it…..  Anyway, the idea of weight ON the hair spring was on SEIKO's in-house text book – the accumulation of the SEIKO know-how book.  It works, but it was actually implemented only on 44KS and 4S79.  By the way, GS does not use Breguet spring, but flat spring – this is based on the actual comparison data, believe or not.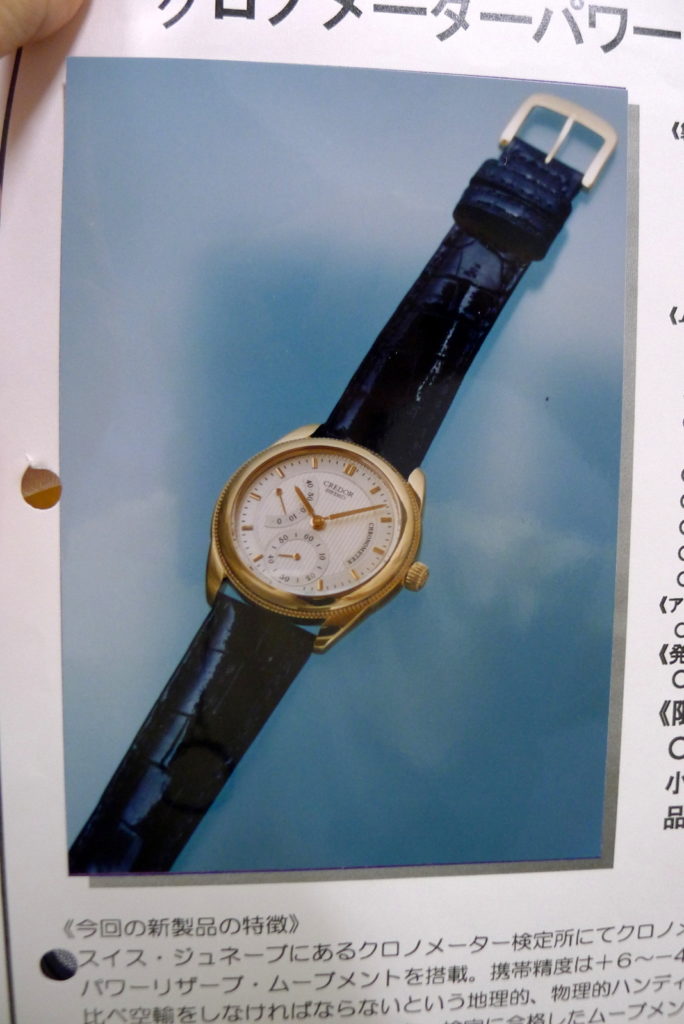 Credor GBAY992 (Actually, there are 20 more LE black dial WG version made for a certain store – GZAY999).  Notice the « CHRONOMETER » printing on the right side of the dial.  There are many 4S79 Credor, but Chronometer certified 4S79 are for LE versions only.
AO: And then it was determined that GS to be resurrected in 98 and I raised my hand and the story was as I already told you.  Oh, and we made a 12 beat watch, too, before GS's 10 beat.  I was, again, involved in assembly and adjusting.
KIH: 12 beat?  43200vph?  Never heard of it.
AO: We made only one – for Credor brand, LE of only 1.  A 8L88 caliber, priced at USD600K – with very decorative case using gold, Japanese Lacquer, MOP, etc..  So, 12 beat was released before 10 beat.  It was in 2008.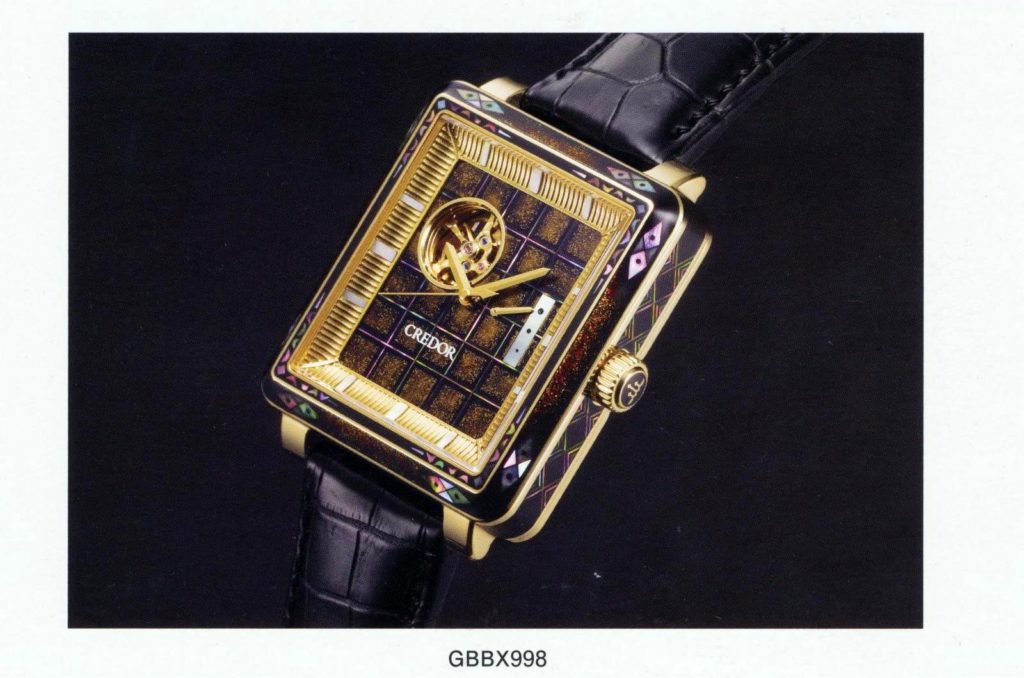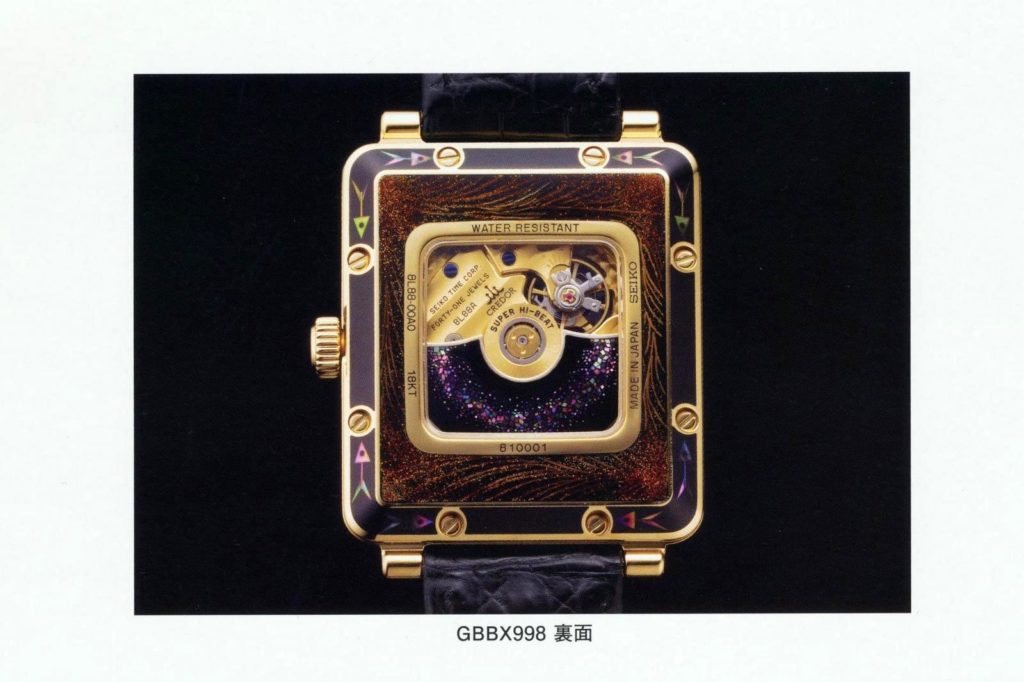 KIH: Lastly, but not the least, where is the GS headed to?

AO (and Mr. Tshuchiya – Prudcut Planning):  As you may have heard many times, GS's product concept is the ultimate « practical » watch.  For that purpose, if it makes sense, it MAY choose Tourbillon if it is the way to make GS more accurate.  If the Perpetual Calendar makes more sense from the practicality, we MAY choose it.  But first and foremost, the accuracy is the heart of GS.  We also understand that there are lots of voices from fans to make hand winding Hi-Beat, but as of today, I can't say for certain whether we will make one someday.
KIH: Do you think you can further GS' accuracy going forward?  Resurrection of VFA which boasted +/- 2 sec per day, for example? 
AO (and Mr. Tsuchiya): It should be based on Hi-Beat caliber.  The most important factor is the control of the torque.  Because Hi-Beat requires stronger torque, therefore controlling is harder – in order to further the accuracy, it is one of the effective ways for the movement to maintain the torque for as long period as possible.  Therefore we may need to have the more effective and efficient mechanism to eliminate the variation of the torque further.  Dealing with GS' own 6 position standard makes the task far tougher than COSC standard……

————————————————————————————–
The talk went on and on and on for hours…..
————————————————————————————–
KIH:  Wow, what interesting stories you have to tell.  Thank you very much for your time today.  I would definitely love to come back and talk more with you.
AO: My pleasure, anytime.
======================================================================
Now, here are some of Mr. Ohira's own vintage collection.
SEIKOSHA Right (ca. 1930)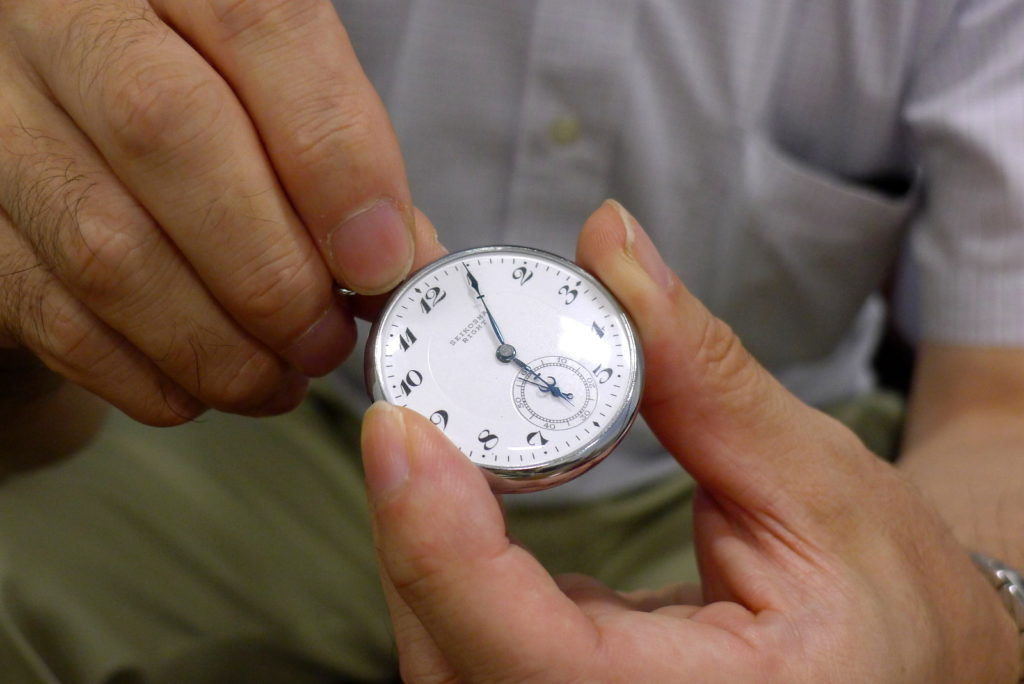 Chronograph – Tokyo Olympic (1964) LE model NOS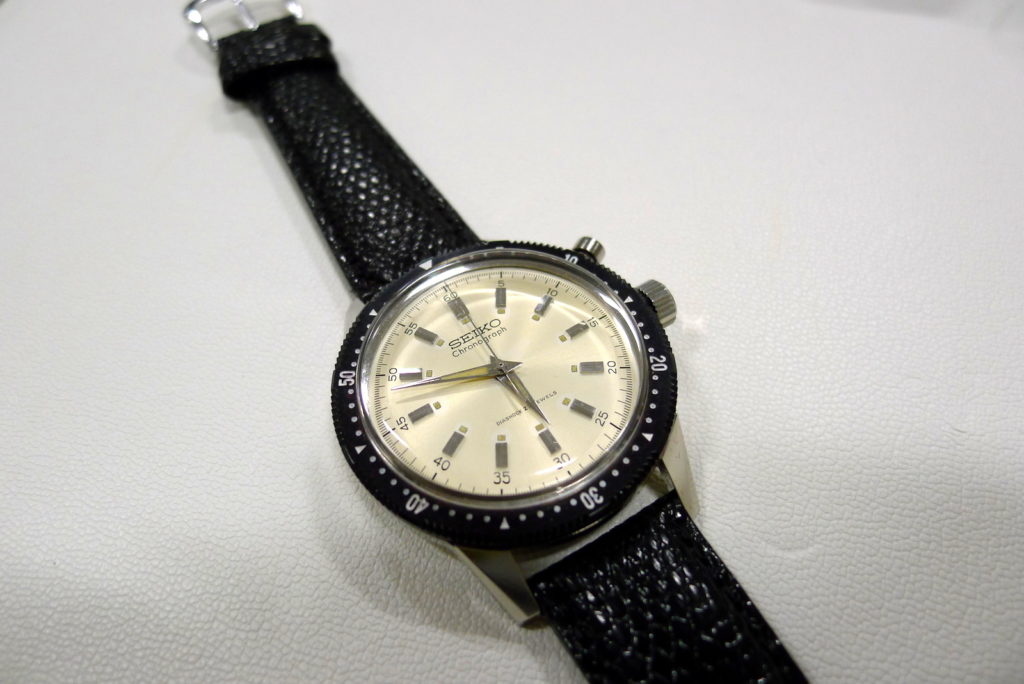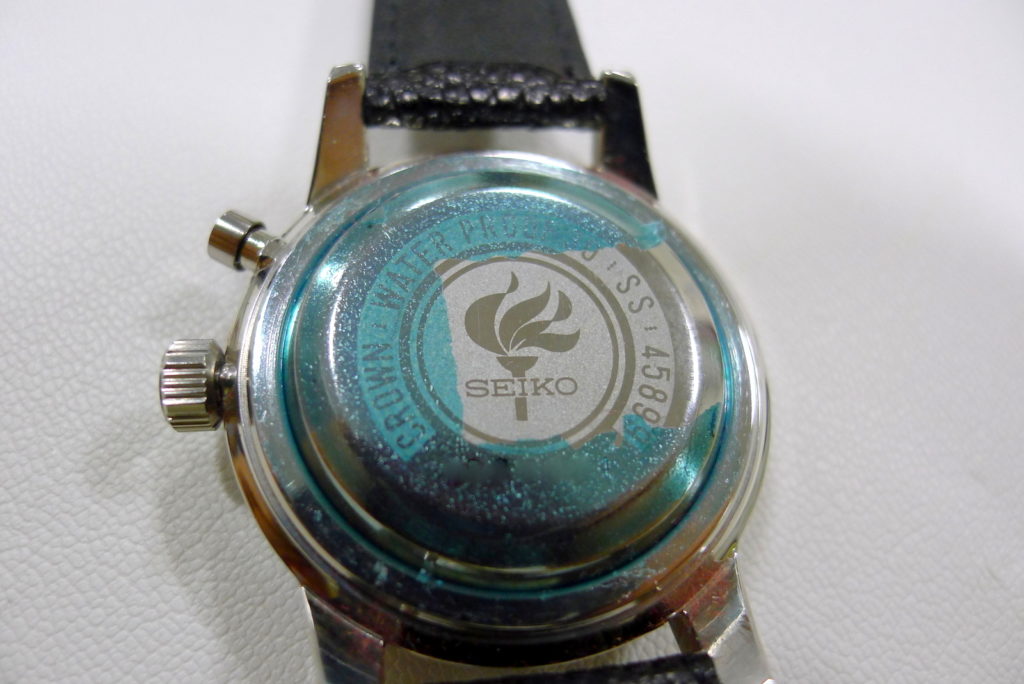 The factory coating is still on it.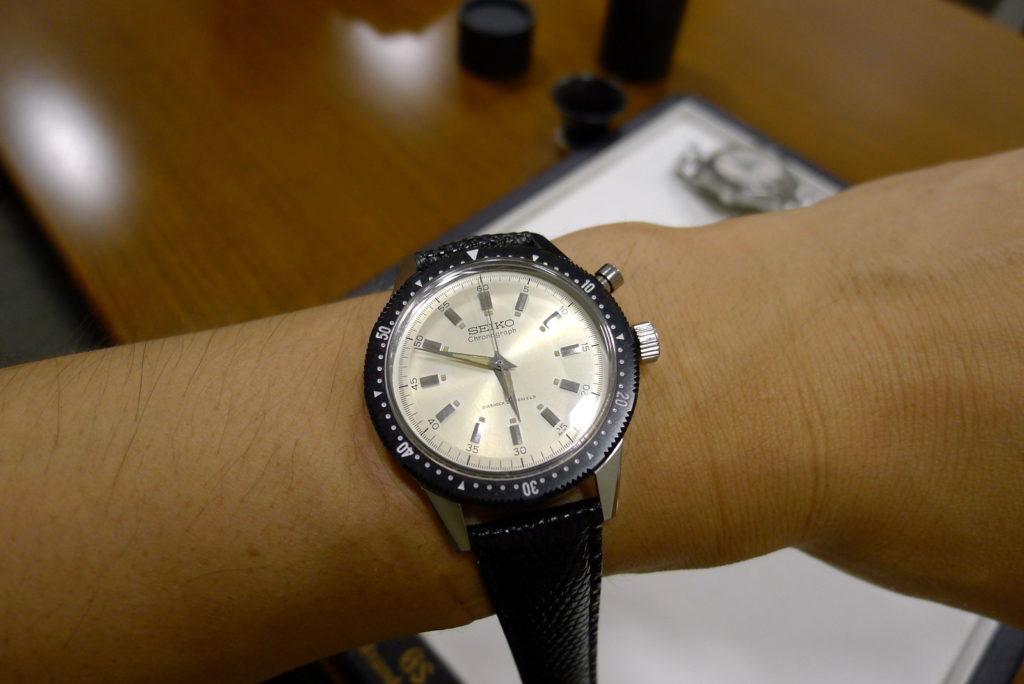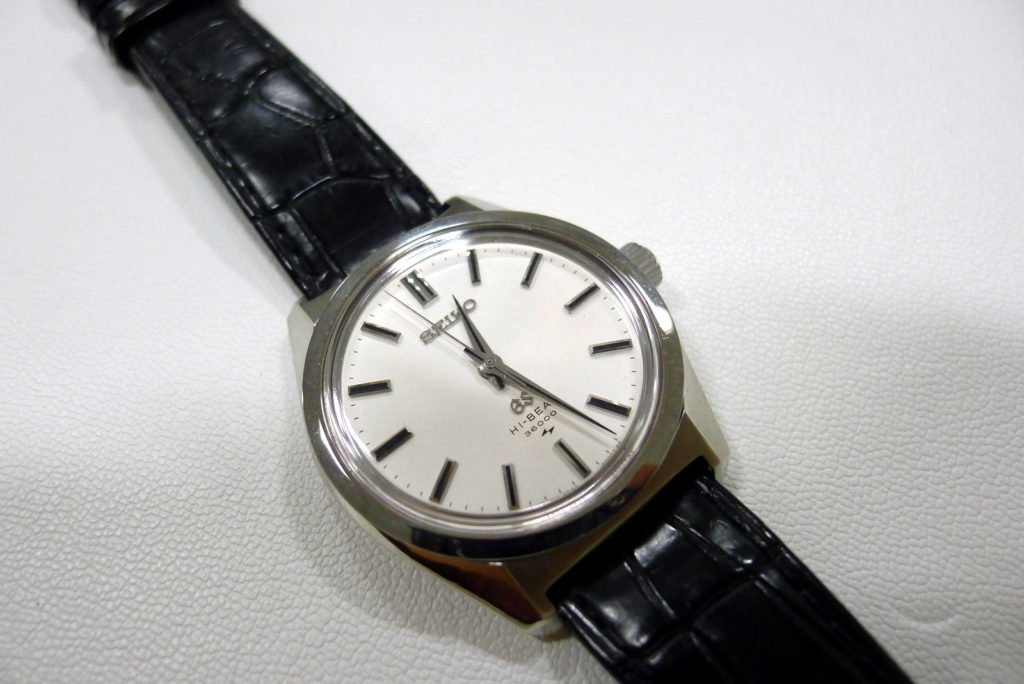 45GS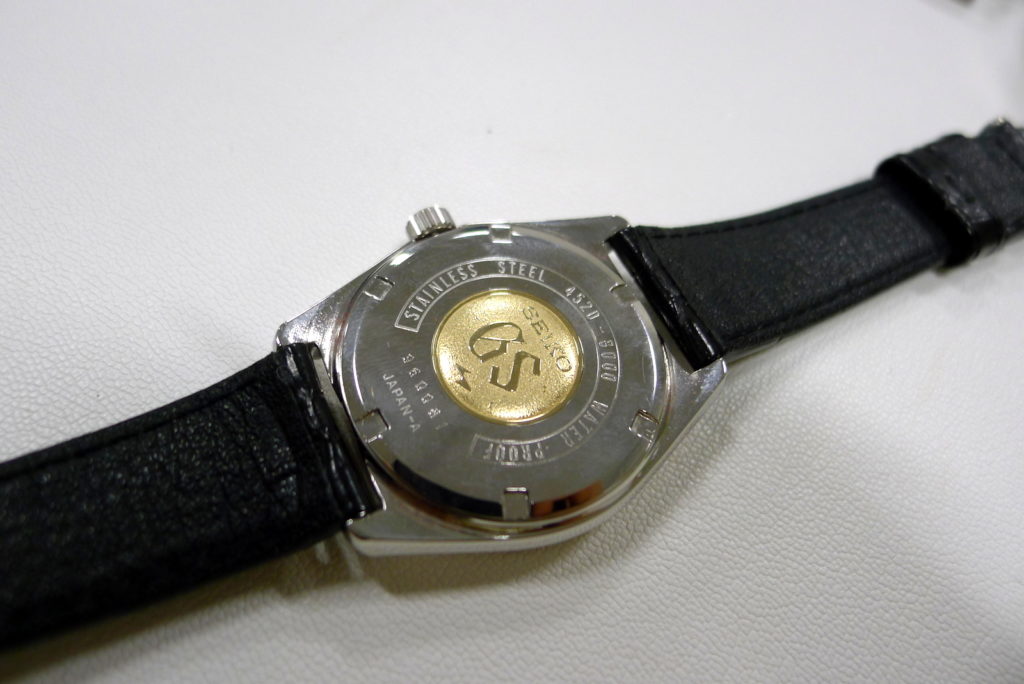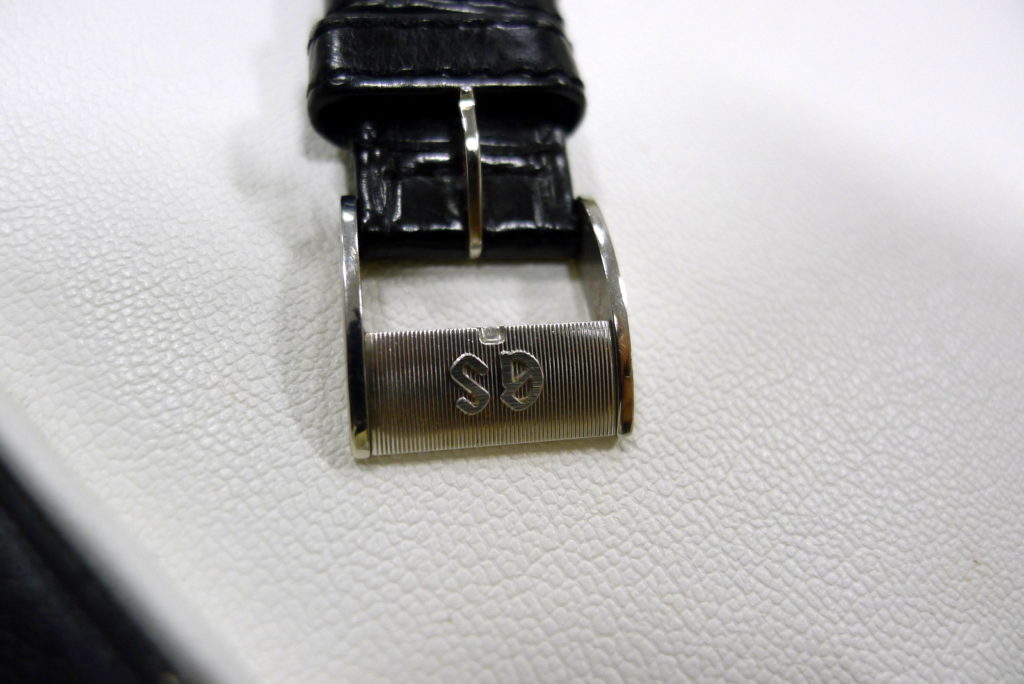 ——————————————————————————————–
Special thanks to:
Mr. Akira Ohira – Seiko Instruments Inc.  « God's Hand »
Mr. Kaoru Matsumoto – Seiko Watch Co.  General Manager for International CS Department.
Mr. Yuji Tshuchiya – Seiko Watch Co. Product Planning Dept.
Ms. Keiko Naruse – Seiko Watch Co. PR and AD Dept.
Thanks for reading.
Ken